Meet GOLD Founder: Dr. Tom Matthews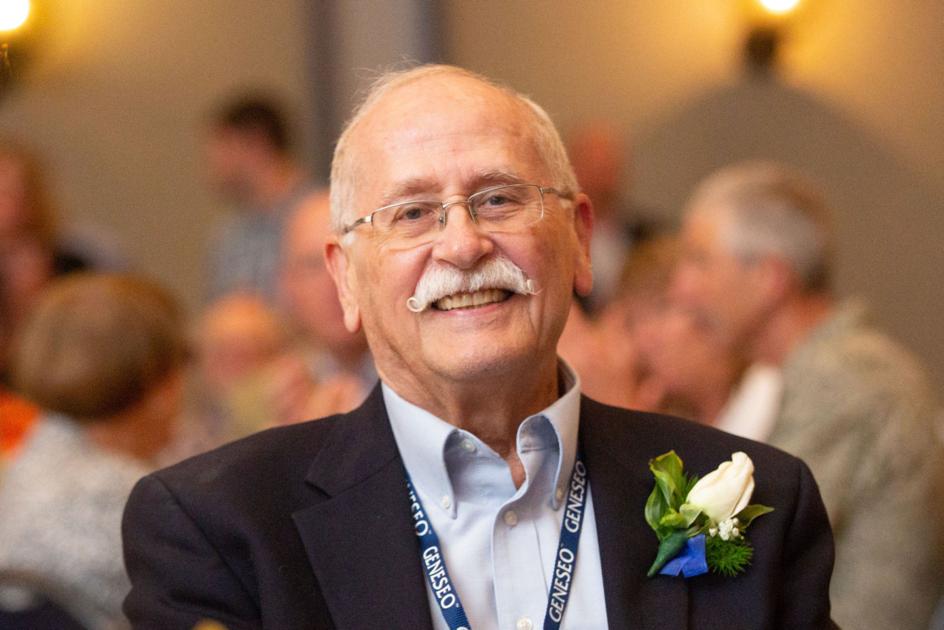 ---
Dr. Tom Matthews was the Associate Dean of Leadership and Service and Founder of the GOLD Program at SUNY Geneseo. Tom grew up in Massena, New York and earned a B.S. in Education at SUNY Plattsburgh, an M.S. in Student Personnel at SUNY Albany, and his doctorate in Student Personnel & Higher Education from the University of South Carolina. He interned at SUNY Fredonia, worked two years at SUNY Brockport, and came to Geneseo as Director of Student Activities in 1967.
Tom worked with student leaders to restructure student government and create a campus-wide programming board that he advised for over 25 years. Tom developed a passion for the performing arts and particularly enjoyed bringing original touring Broadway shows such as A Chorus Line, Hair, and Godspell, and famous performers such as Bill Cosby, Vincent Price, William Windom, Red Skelton, Dizzy Gillespie, Ray Charles, Steve Martin, and Jay Leno to campus. He loves to tell tales about unknown, but future stars such as Chuck Mangione, Chicago, Peter Grabiel, and Aerosmith, and days spent hosting people like Abby Hoffman, Alex Haley, Jonathan Kozol, Hank Aaron, Helen Thomas, and Gerald Ford. He also fondly remembers presenting awards at national conferences to Harry Chapin, Alan Alda, and John Wayne. Tom helped create programs such as the Leisure Learning School, the summer conference program, Elderhostel, the Geneseo Summer Festival, and summer arts programs for high school students. Tom served two terms as President of the Genesee Valley Council on the Arts, as President of the SUNY Arts Presenters, and as a founding member of the Livingston County Tourism Board. Tom was the first administrator at Geneseo to receive the SUNY Chancellor's Award for Excellence in Professional Service in 1978.
Tom served as Chair of the National Association for Campus Activities and has been active in regional, state, and national leadership positions and has chaired numerous committees and presented papers and hundreds of program sessions throughout his career in organizations such as the Association of College Unions-International, the Association of Performing Arts Presenters, the International Leadership Association, the New York State United Teachers, and the American Federation of Teachers. He has also been active in United University Professions representing over 20,000 employees in SUNY as a local president and as statewide treasurer and vice president for professionals, and as the union's chief negotiator for two rounds of bargaining with the State of New York.
Since 2000 he has been developing the GOLD Leadership Certificate Program at Geneseo that attracted over 7,000 participants in 2013-2014 and has been recognized nationally as a program of excellence and distinction by the National Association for Campus Activities and the National Association of Student Personnel Administrators. Since 2005 Tom and the leadership and service team in the Center for Community have been working together to integrate student volunteer work and leadership with civic engagement initiatives. Tom spearheaded the creation of Livingston CARES, a collaborative organization involving the college (students, faculty and administrators) and numerous county and community agencies, to provide disaster and humanitarian recovery assistance. Thirty-two work trips involving 1,0000 volunteers have been sponsored by Livingston CARES to assist the people of Harrison County, Mississippi recover from Hurricane Katrina. Similar efforts are also underway on Staten Island and Long Island to assist with Hurricane Sandy recovery.
Tom says that as long as he is having fun and making a difference through the GOLD Program and Livingston CARES, he will continue working at Geneseo. He credits his wife Betsy and sons Jeff & David, dozens of coworkers, hundreds of colleagues, and thousands of students for making it possible for him to have so many wonderful experiences throughout his career at Geneseo.