UPDATE!
In light of the national upheaval around racial injustice, we've decided to change the Common Read to March by John Lewis.  
If you have already purchased and/or started to read Why they marched DO NOT WORRY!  The discussion in August will include the perspectives from Why They Marched as well as March.
In fact, the CMRD 101 course is going to include BOTH Why They Marched and March as  the required texts for the course.
In addition, look for a yearlong series of common readings, events, and other opportunities that will continue to expand the our understanding and civil discourse around civic engagement, racial injustice, and access to voting.
Each year, faculty and staff come together to choose a book that will introduce students to the rigorous and interconnected academic environment at SUNY Geneseo. Students from Tesla House, Dante House, Entre House and the Access Opportunity Program participate in the read and a discussion led by faculty and staff on the Sunday before classes start. Lectures, events, and classes throughout the fall semester are linked to this book to demonstrate the integrated nature of learning. 
The first event is a book discussion on the Saturday of move-in weekend from 2 pm - 3 pm in the College Union Ballroom.  Join faculty, staff, and students from across campus to chat about the book!
Each year, we offer an online, 1-credit course based on based the common summer read book (CMRD 101). This course is open to all students as well as students who are a part of the summer discussion so all can participate in this integrated and reflective learning opportunity.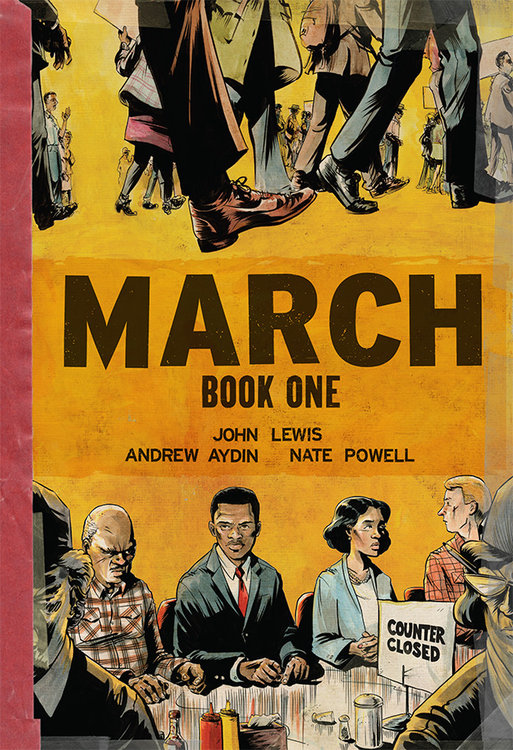 ---
Book for the 2020-2021 cohort: March: Book 1 by John Lewis, Andrew Aydin, and Nate Powell.  Congressman John Lewis (GA-5) is an American icon, one of the key figures of the civil rights movement. His commitment to justice and nonviolence has taken him from an Alabama sharecropper's farm to the halls of Congress, from a segregated schoolroom to the 1963 March on Washington, and from receiving beatings from state troopers to receiving the Medal of Freedom from the first African-American president.
March is a vivid first-hand account of John Lewis' lifelong struggle for civil and human rights, meditating in the modern age on the distance traveled since the days of Jim Crow and segregation. Rooted in Lewis' personal story, it also reflects on the highs and lows of the broader civil rights movement.
Book One spans John Lewis' youth in rural Alabama, his life-changing meeting with Martin Luther King, Jr., the birth of the Nashville Student Movement, and their battle to tear down segregation through nonviolent lunch counter sit-ins, building to a stunning climax on the steps of City Hall.
 
Info about Why They Marched:Why They Marched by Susan Ware. For far too long, the history of how American women won the right to vote has been told as the tale of a few iconic leaders, all white and native-born. But Susan Ware uncovered a much broader and more diverse story waiting to be told. Why They Marched is a tribute to the many women who worked tirelessly in communities across the nation, out of the spotlight, protesting, petitioning, and insisting on their right to full citizenship.  We meet Mary Church Terrell, a multilingual African American woman; Rose Schneiderman, a labor activist building coalitions on New York's Lower East Side; Claiborne Catlin, who toured the Massachusetts countryside on horseback to drum up support for the cause; Mary Johnston, an aristocratic novelist bucking the Southern ruling elite; Emmeline W. Wells, a Mormon woman in a polygamous marriage determined to make her voice heard; and others who helped harness a groundswell of popular support. We also see the many places where the suffrage movement unfolded—in church parlors, meeting rooms, and the halls of Congress, but also on college campuses and even at the top of Mount Rainier. Few corners of the United States were untouched by suffrage activism.Ware's deeply moving stories provide a fresh account of one of the most significant moments of political mobilization in American history. The dramatic, often joyous experiences of these women resonate powerfully today, as a new generation of young women demands to be heard. 
Susan Ware is a celebrated feminist historian and biographer, is the author of American Women's History: A Very Short Introduction and Letter to the World: Seven Women Who Shaped the American Century, among other books. She is the editor of American Women's Suffrage: Voices from the Long Struggle for the Vote, 1776–1965 and is Honorary Women's Suffrage Centennial Historian at Radcliffe's
---
The 2019 book was: Brown Girl Dreaming by Jacqueline Woodson. Raised in South Carolina and New York, Woodson always felt halfway home in each place. In vivid poems, she shares what it was like to grow up as an African American in the 1960s and 1970s, living with the remnants of Jim Crow and her growing awareness of the Civil Rights movement. Touching and powerful, each poem is both accessible and emotionally charged, each line a glimpse into a child's soul as she searches for her place in the world. Woodson's eloquent poetry also reflects the joy of finding her voice through writing stories, despite the fact that she struggled with reading as a child. Her love of stories inspired her and stayed with her, creating the first sparks of the gifted writer she was to become.
Jacqueline Woodson is the 2014 National Book Award Winner for Young People's Literature for her New York Times bestselling memoir Brown Girl Dreaming, which was also a recipient of the Coretta Scott King Award, a Newbery Honor Award, the NAACP Image Award, and the Sibert Honor Award. She is the author of more than two dozen award-winning books for young adults, middle graders, and children; among her many accolades, she is a four-time Newbery Honor winner, a three-time National Book Award Finalist, and a two-time Coretta Scott King Award winner. She lives with her family in Brooklyn, New York.
---
The 2018 book was We Rise: the Earth Guardians Guide to Building a Movement that Restores the Planet by Xiuhtezcatl Martinez, a 17-year old indigenous environmental activist and hip hop artist. Xiuhtezcatl came to campus in October 2018 as the President's Sustainability Lecturer. For more information, visit Xiuhtezcatl's website.
Beginning with the empowering story of the Earth Guardians and how Xiuhtezcatl has become the voice of a generation, We Rise explores all aspects of effective activism and provides step-by-step information on how to start or join a solution-oriented movement.  If you are interested in creating real and radical change, We Rise will give you the inspiration and information you need to make the world a better place and leave you asking: If I don't step up, who will?  
---
For any questions or concerns, contact the Department of Residence Life (reslife@geneseo.edu or 585-245-5726) or the Associate Director for Educational Initiatives, Meg Reitz, PhD (reitzm@geneseo.edu or 585-245-6363)